For any of you that know me, you will know exactly what 73 days is referring to....our next trip to Disney World of course!! Since we started our coutdown at 108 days, 73 seems like it's getting pretty close! We have our countdown on Olivia's door and each night she pulls one of the Mickey heads off the door.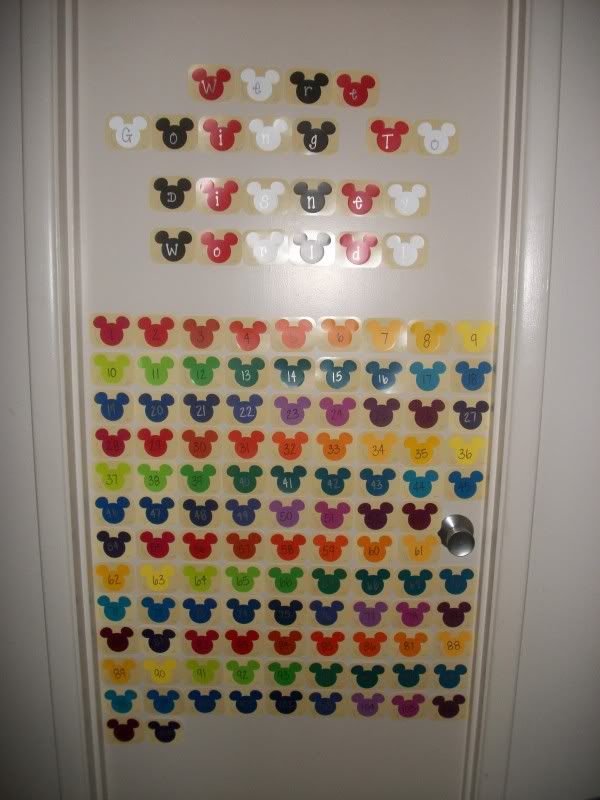 As most of you know, this trip is to celebrate our princesses 3rd birthday! This trip is a bit of a splurge trip for us, but we wanted to make an extra week for Olivia. Here is a quick recap for those of your just joining this journey:

Who: Myself (Erin), my wonderful hubby (Toby) and our princess Olivia
What: Olivia's 3rd Birthday trip!
When: December 5-10
Where: Disney's Pop Century Resort
Why: To celebrate of course!!
We have some amazing thing planned for this trip that I am beyond excited about:
*We are doing the Deluxe Dining Plan for the first time this trip! Disney has some wonderful restaurants to splurge on and enjoy! Here are our selections:
~Yak & Yeti (Lunch)
~California Grill (dinner)
~Kona Cafe (Tonga Toast here we come)
~Crystal Palace (lunch)
~1900 Park Fare (dinner with Cinderella!)
~Hollywood & Vine (lunch)
~Garden Grill (dinner)
~Cape May Cafe (breakfast)
~LeCellier (lunch-I'm dying to try the cheddar cheese soup & pretzel bread!)
~Ohana (dinner)
~Ohana (breakfast)
~Teppan Edo (dinner)
~Chef Mickey's (we love this place!)
~Planet Hollywood (I can't stand it, but it is Toby's only request)

*We are also taking Olivia to the Bibbiddi Bobbiddi Boutique!!! She is super excited about this and I simply cannot wait to see her face after her transformation into Cinderella!!!

*I am over the moon excited to be able to spend some time in the World during the holidays! I love Christmas and everything that goes with it! I made sure to schedule lots of meals in the resorts so we can experience all of their amazing holiday decor!
There you have it. A quick recap of what our upcoming trip has in store for us! I will be sure to add more details in as we get closer to our departure date, but if you want to read the nitty gritty, feel free to
join in my PTR
(pre trip report) over on the DIS!
So, who else has a magical vacation in the works?